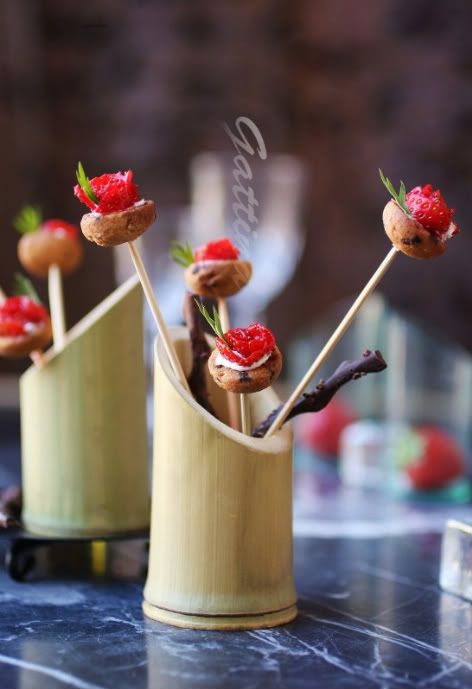 This bamboo tube is very sturdy and can hold up quite many sticks, and the bamboo also give a natural look to the presentation.
... ... I've ever made.
I had been one party that the hotel's chefs made the desserts very
very small
. I guess since the desserts were served throughout the whole party time (love it!), they were considered as gourmet hors d'oeuvres as well, thus the tiny portion couldn't stuff us up too soon. Tiramisu, mousse or cheesecake was able to fit into a doll's cup; they all were so adorable that I almost couldn't bear to eat them.... almost!
Tomorrow I am hosting a gathering in my small apartment, so now am trying this teeny-weeny shortcake. Each cake is hold up by a long stick before putting into a bamboo tube. I can actually put quite many sticks into one tube, this way also solves the space problem. And to save time, just get store-bought mini cookies and use them as the shortcake (mine is mini
Chips Ahoy!
:) :)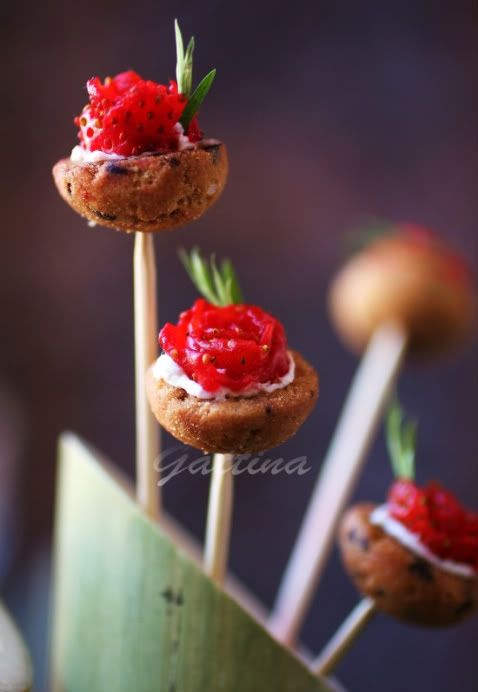 To make my smallest strawberry shortcake, you will need:
mini cookies, like Chips Ahoy!
Whipped cream
strawberry
fresh herb for garnish
long sticks and a bamboo tube for presentation
First, freeze the mini cookies for a few hours. Use a very sharp knife (with a fine tip) to dig out a small hole from the cookies' bottom. Pipe the cream into the hole, top with diced strawberry, garnish with fresh herb. Gentle poke a stick to the top (now is bottom) of the cookie. Place quite a few of sticks into a tube and make it like a bouquet. Whipped cream may lose the stability in a hour. If you want to make the shortcake a few hours ahead, you can replace with cream cheese, and glaze the fruit with diluted apricot jam. Keep in fridge, uncover, until you serve.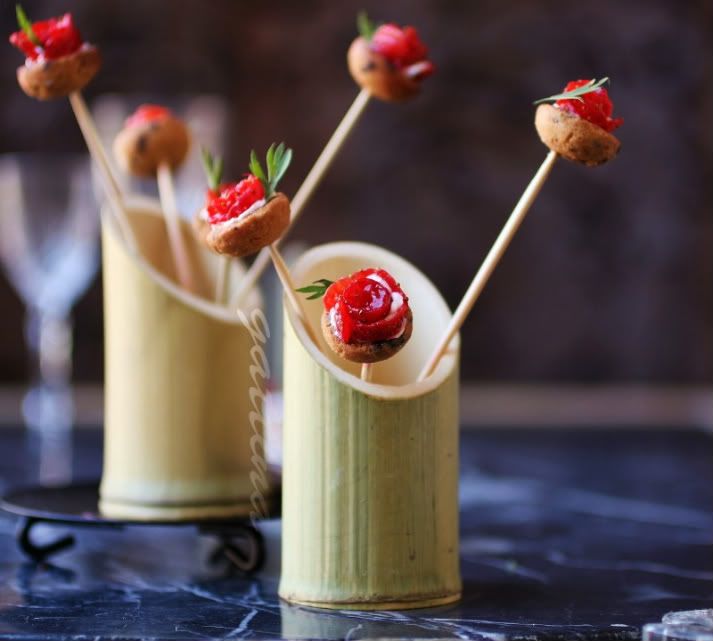 The bamboo tubes are supplied by Restaurantware
-----------------------------------------------------------------------------------------------------------------------------------------